Marriage Is Not A Wise Escape Plan
I was in line at Wal-Mart, sandwiched between two women. One was behind me in line.  The other was the cashier ringing up my purchases.
"She is the best checker here.  You are lucky to get her before she leaves," said the woman behind me in line.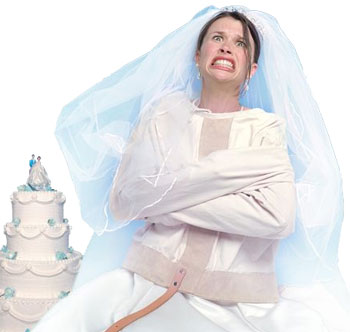 "This is my last week!" shouted the radiant young girl checking me out.  "I'm getting married and I'm moving out of here and I will never have to work at Wal-Mart again!"
A lot of people have told me about a lot of reasons to get married.  I have got to admit that not having the imagination to figure out how to spend your life other than working at Wal-Mart — well, let's just say it did not impress me as a particularly good reason.
I could see this young woman crying in an undersized kitchen somewhere.  She was making a classic mistake.  And the last thing she would want to hear or even would be able to hear would be me telling her to be careful, so I didn't even try.
The worst marriages known to me have been perpetrated by men and women who wanted to escape from something.  If they are young, it is often domineering parents.  If they are older, it can be another marriage.  But the whole concept that you are running away from something that you don't like into something that you don't know about — well, it is hard for that to be anything other than a recipe for disaster.
Try to look on the internet for reasons people marry and find some amateur work — decent perhaps, but moralistic.  There are "right" and "wrong" reasons.  People simply do not think about some of the most potentially disastrous choices of their lives, and slip into them, only to wonder later, "How did I get here?"
Here are some nice, if not-from-mental-health-professionals, articles on why people get married.
If you look at some of these, what you find are happy people explaining why the rest of the world should be like them.  As a matter of fact, a tremendous amount of the self-help books out there could and should be retitled, "How to be more like me."
As a mental health and medical professional, I know perfectly well nobody out there is like me.  If they have any brains, they don't want to be.  Too much academic work, too much personal and professional rejection.  But I have told my husband many times that the best piece of work I ever did was figuring out how to find him.  This consisted of adapting what relevant knowledge about psychological science I could locate to the situation and my needs.
I still remember some of the statistics I learned when first researching a solution for myself.  Basically, proximity breeds familiarity, so 71% of people marry either a neighbor, co-worker, or schoolmate.
Pretty much everybody spends more time researching what car to buy than they who to marry.  I suppose at least part of it is because women imagine themselves as the woman in the photo on the romance novel cover.  The man whisks you away.
Come on!  Virtually every person who manages to land in the seat across from me at my desk tells me about dashed hopes and crushed dreams.  A few minutes, at most, of pleasure and years of penance.
I recently found one of the more cogent discussions on the reasons people should take time to think; in other words, reasons not to get married.  We are talking about a complex psychological relationship that adapts poorly to the scientific method of study, exactly because it is so complex.
You know things are complex if I think a Jungian perspective is the way to start flying, but there is one worth reading.
The hard part is that if somebody believes in "forever," then a decision is being made in one phase of life that will affect future phases of life of which one knows little or nothing at the time.  There is a tendency to rely on outside forces, like parental advice. They think you are a miniature version of them, which you are not. You cannot expect them to be cognizant of the importance of genetic recombination.  We have not even spoken of biological attraction, which rules at least the initial phase of the relationship that leads to marriage.  When that is the basis for attraction, it must diminish and maybe disappear.
We are talking, as unromantic as it sounds, about mechanisms inbred into our dear species to insure survival of the species and not necessarily the joy of the individual.  A man may be attracted to pre-teen thin-waisted looks, and may not be thinking that waists grow in childbirth.
Many women love to watch a man's rear end (many women love watching football for this reason alone) without knowing that the gluteal muscles help men run fast, so they can hunt those who threatened Fred Flintstone and our other ancestors.  The most attractive male gluteals will get fatigued with age and eventually bear a curious resemblance to a sack of potatoes.  A well-thought out love ought to survive these things.  But who thinks out love, besides some female mental health and medical professional who was at the time indescribably lonely and armed primarily with academic skills?
Most people love to perpetuate myths that are pleasant, and the myth of romance has fueled more female masturbation than anything I know.
I once treated a case of female anorgasmia simply by getting a woman to read "The Bridges of Madison County" and coupling it with some guided imagery.
I realize that – unlike me — people these days prefer video material to books.
I guess Clint Eastwood must have owned the property, though, because few women I know would have cast him as the romantic icon.
Signs of the differences between fantasy and reality litter the landscape. Many men have told me that their fathers have told them that there are two kinds of women; the kind you bed down and the kind you marry.
Liberated women have consistently criticized the double standard, with good reason.  So it is not without a certain amount of pain that I point out that now that they are more sexually free (the doctor in me cannot even mention this without warning about pregnancy and life-threatening diseases) women might typecast me the same way.
Some you may love when their gluteals sag, some you may not.  As for the joyous young checker in Wal-mart, I did not discuss the statistics that would suggest at her early age she had a real chance to end up divorced and working in Wal-Mart again.  They can't all be my patients.
Filed under relationships by admin on Apr 28th, 2010.