Caffeine As A Bipolar Trigger
She was 33, blonde and attractively dressed.  She had been stable on some medications for bipolar illness for many months before seeing me for a renewal.  She told me her marital relationship was wonderful.  They ran a little boutique together in the historic part of downtown.  Not getting rich, but doing what she loved.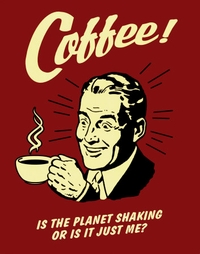 Only one problem — her husband said she became difficult when she drank too much coffee.  I asked for some description of the "difficult."  She noticed she was nervous and had trouble cooling down later.  She had "panic attacks," which had not been a problem before.
They sounded exactly like the description of that disorder in DSM-IV – the one nobody likes applied to them – the "B" word.  The things she said her husband had said about her sounded like the criteria for mania.  No sleep, loud arguing, anger, nerves, etc.  "Let's look at cutting out the coffee," I told her.
She normally drank as much as a half-pot in the morning at home before opening the boutique.  That may not sound like much, but others have had similar symptoms from less.  She had figured out herself that coffee in the afternoon messed up her sleep beyond description.
Caffeine has a LOT of effects on the body.  If it had been a modern discovery, instead of the old myth about some frisky goat in the near east chewing berries off a tree and surprising a young shepherd by omitting sleep, caffeine would have caused the FDA a struggle to pass it because it does so many things.
First, coffee is absolutely NOT the only beverage that has it.  There is generally more in caffeine-containing cola drinks.
I remember when I was in quantitative analytical chemistry as an undergraduate college student that we were learning to do a caffeine assay.  Everyone else worked on a cup of coffee from vending machine in or near the student cafeteria.  Me, I went across the street to the soda fountain at the drugstore.
I know they set up things like that in Boston because of our Puritanical beginnings.  When I was a kid, any sweets were forbidden on Sunday – I guess they were a sin.  So all carbonated drinks were considered "tonic," and alleged to have health benefits.  Early ones – like Coca Cola – had medicinal cocaine in the formula.  Yum Yum — and we think caffeine is a problem!
Although it isn't forbidden by the Drug Enforcement Agency, coffee IS addictive and caffeinism is a real problem.  Not only does the DSM-IV list it as a diagnosis that needs to be eliminated before you say somebody has panic attacks, but if you stop it too fast, and if you are taking too much, you can get a pretty terrible withdrawal headache that can be cured only by — would you believe — taking a little coffee.   You know, "The hair of the dog that bit you!"
I always warn people getting off caffeine about this one.  My little blonde shopkeeper got off her caffeine slowly and gradually. She hated soda, so her problems seemed limited to coffee-drinking.  No headache, no problems, nothing that sounded like mania, so no change of medication.  She said her husband was delighted and life was good.
Our friends at the FDA call caffeine "generally recognized as safe," which is a good thing because about 90% of American adults consume it.
Water is safe, too, but if you have certain medical conditions which make its restriction necessary, that can kill you, too.  Which is a gentle reminder that trying to figure things out yourself does not always work and it is good to have a doctor to advise you.
But back to caffeine: It crosses the blood-brain barrier at least as easily as you and I cross the street.  It has a molecular structure which is similar to adenosine.  Adenosine is actually used to slow a too-fast heart rate.  So it has been postulated that competitive inhibition – caffeine-confusing —  places on the cell to attach to it instead of to adenosine could cause the faster heart rate some folks have with caffeine.  Adenosine is also involved with molecular mechanisms of energy, and people sure report a boost of energy with coffee.  Heck, it got me through many a night "on-call" in medical school.  (Although I have now sworn it off because I think it raises my pulse and blood pressure a bit much.)
Caffeine also has diuretic effects.  But most people get tolerant to these fairly quickly.  Caffeine acts pretty quickly. Effects of increased energy type usually are felt within no more than a half hour.  Effects of using too much: well, it can come across as all kinds of nervousness and irritability that usually land someone in the office of a psychiatrist or therapist.
The DSM-IV actually lists not one but four specific psychiatric disorders that are known to be caused by caffeine use or abuse: caffeine intoxication, caffeine-induced anxiety disorder, caffeine-induced sleep disorder, and caffeine-related disorder not otherwise specified (NOS).
There have also been some suggestions from animal studies that long term use in lower doses may simply slow or impact negatively upon learning.  Or, they may heighten the ability to quick recall for a bit.  There may be an increased heart attack risk with longer term dosing.
Sometimes, the research looks pretty darned confusing, and this is perhaps one such place.  People who have problems in living are puzzle boxes.  A good doctor will take delight in solving these puzzle boxes.  Sometimes the toughest thing is getting the patient to be open minded enough to listen.  This can be hard when the answer to a problem is not the addition of some high-falutin' prescription drug, but rather, something common that is used daily by many.
Filed under Stimulants by admin on Mar 8th, 2010.