End-of-life Decisions — Difficult calls
All of this balderdash from opponents of so-called "Obamacare" health care reform about "Death Panels" that will come and put your grandparents to sleep like an injured Chihuahua makes me think about the patients I've had to counsel regarding end-of-life issues.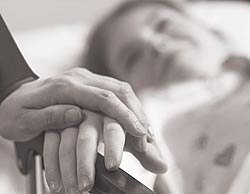 I have a wonderful patient who is still struggling, after many years, with her father.  He is, like many men of his era who spent a fair amount of time in the military, the kind of guy who speaks little.  He has outlived his wife, which is statistically unlikely, for she was very ill for a very long time.  He is tired, just plain tired, of medical interventions.  He had a hunk of colon taken out some years ago, and there was something somewhere between normal and cancer on it.  Who knows when he tells his daughter.  Her confusion is expressed to me through tears.
She told me he is, now that he is over 80 and his wife is gone and he lives in a pleasant if not exactly "exciting" facility, not terribly excited about taking foul tasting concoctions necessary to get his x-ray follow up.  As a matter of fact, he is not very excited about either seeing his doctor or doing what that doctor says.  He thinks his doctor (who is someplace in the federal government system) is some kind of idiot.
Me, most of the doctors I have known in the federal government system were more civil servants than doctors, doing some kind of work that serves the bureaucracy at or before serving the patient.  In other words, his doctor may well be some kind of idiot and may not be able to provide whatever kind of support he really needs right now.  So he complains to his daughter who complains to me.  I told her first, to assess his doctor for herself.  Of course, this dude has to have the time to return phone calls, which they may not give him.
Second, I told her to make herself available to father and to listen to what he has to say.  If I remember one thing, and one thing only, from the works of Elisabeth Kubler-Ross, it is that it is a very good idea to start by shutting up and listening.
Then, I told her, when we understood a little more about what her dad had and what he wanted, we could talk.
I was able to comfort her at least by telling her that I did not hear anything acute and life threatening here.  We could talk, for a couple of weeks if we needed to.  I only had a few more questions.  Was father religious?  What does he believe in?  What does he want?
Religion has rushed in and vague notions like "ethics" and "spirituality" seem to have taken care of our gross incompetence, as Americans of our own generation, to be articulate in terms of feeling and belief.  When I read that America is one of the most religious nations in the world, where a lot of people believe in God, I sometimes wonder how much is private and how much is public, for show.  Social pressures are so great it is sometimes impossible to tell.
I have never been too excited about the fact that religious thought dominates medicine as it does.  I like people who like religion to find comfort in it.  Several have suggested (like my husband) that end of life and wondering what comes after are the reasons for which religion exists.  A simplistic theology, perhaps.
I think that most if not all people know exactly what they want and need in most situations, end of life included.  I think that they are afraid of speaking about it because they anger others so easily.
There is one instance in my own family, although nobody knew Harry's life would end when it did.  (It ended by an egregious case of medical malpractice when he was hospitalized for a medication error and proper precautions were not taken.  There was no action taken, for various reasons, a burden which I continue to carry on my heart.)
My brother was Bar Mitzvah, and did everything required by Jewish law as interpreted my parents.  I was away from the house a lot, but whenever I came home to Harry I tried, I really tried, to hear what he had to say.  My parents were strong and directive personalities.  I would take him to see professional sports, or for whatever outings I could put together.  But he was under their dominion.  I believe he was far more under their dominion than he needed to be.  Their dominion seemed to have served their needs more than his.
It was not until the demise of both of them that he told me that to him the rituals were meaningless, he did not think that there was a God, and he thought the whole thing was a waste of time.  He said my parents would never give him a moment's peace from their belief system (which they did not) and that the major impact that Judaism had upon him was to cause him to miss Friday night television for a lifetime.  It was hard for me not to be judgmental.  But I listened to him, and honored his viewpoint, and I am really glad that I did.
When Harry died, we did not give him a Jewish funeral.  Harry was happiest when he was by the beach and watching girls.  So we scattered his ashes along the beach at Santa Cruz.  I cried my eyes out but it was true, absolutely true, to my Harry.
So I sent my patient home and told her to plan to spend time being someone her father could really talk to.  Her memories started coming out.
She told me how he had always thought his wife too religious,and he really did not seem to want to buy "that Sunday stuff."  She told me how he had performed nothing but physical labor jobs for most of his life, and how he always complained that he never got enough rest, and that it was only when he was in the hospital that he thought he could get some rest, but he always felt as if people were trying to do things to him.
I told her she was closer than she thought.  All she really had to do was to hear his wishes, with him looking her straight in the eye, and that was what she was going to do.  Not what she wanted or believed was right, but what he wanted and believed was right.
Start by getting the medical facts.  Nobody can make decisions until they understand what they have.  Someone who is competent to make decisions should get all the data and make decisions.  Someone who is not competent to make decisions or may be becoming incompetent to make decisions needs first, to be judged not competent to make decisions.
I am a psychiatrist and I have a fair amount of experience in these circumstances — but so do many others from the fields of medicine, clergy and law.  There is no cookbook recipe here.  Each case has to be reasoned out.  Once it has been reasoned, there is the notion of health care proxy.
A person who may not be competent to make a decision can still be very instrumental in the choice of the person who makes that decision.

As National Institutes of Health documents go, this one is sketchier than most.  That is probably a good thing, since end of life decisions are not a subject upon which I would like the government to intervene.  Too often there are different family members with different beliefs, and they war with each other.  Too often this war ends up getting played out in the courts.  The answer is for the interested person to have the courage and understanding, enough of both to know that life on this earth has an end, and that the best possible resolution is that every single individual decides what he or she wants while he or she is able to make such decisions.
Filed under End Of Life by admin on Jan 14th, 2010.