Social Phobia — Sometimes There IS A Happy Ending
She was 22 and dirty, poorly dressed, having been dragged into my clinic office by a social aide.  She knew her diagnosis.
"I got social anxiety disorder. I am social phobic. I don't want to leave my apartment."  She was looking me straight in the eye, through her tangled blond hair with a purple streak.  I think her clothes had been black, what the kids call "goth," before they became soiled.
She didn't do drugs; that was the good news.  She did drink; her friends brought her that in exchange for; guess what.  Yes, whatever charms she had, she certainly was not ashamed to exchange them for booze.
I was genuinely glad that she had trusted the social work person enough to come into the office.  I have had situations where I have had to go visit people in their homes, and they are afraid to leave.
There are plenty of diagnoses besides social phobia that can cause this regrettable situation.  Panic attacks with agoraphobia are another situation where I can get called to do a "house call" because nothing else will work.
Social Anxiety disorder hits about 3% of the population.
Of course, there is a support page for the suffering.
She had Paxil (paroxetine) 20 mg. before and claimed it worked.  So I gave it again.
Pregnancy test was negative.  Sent for exams for sexually transmitted diseases and a physical and even an electrocardiogram because she had been living on the street and had done some crystal meth.
She said she could quit drinking any time.  Hah!  They call it "harm prevention," because I was not about to deny her medication (or any other treatment) because she might drink.  She needed fixing so bad, I simply tried to see if she would change, and she might, so we had a pleasant chat about how drinking could screw up all of the organ systems in your body.  Just the facts.  And she did not want treatmet for her drinking.  So she made as informed a consent as a human could make.
Studies that compare drugs to non-drug treatments are pretty stupid, in my estimation.  In real life, when a person is suffering, unless they make terrible decisions (which patients sometimes do) then you want to do and to use everything possible to help them, all at once.
The Paxil prescription might or might not get her out of the apartment.
My favorite fast and effective therapy is "tapping" — also known as EFT. She did not want to try new things, a poor decision.
Emotional Freedom Technique, if she had gone for it, might have been the fastest way to fix this mess.
The old tried-and-true method is called cognitive behavioral therapy.
These folks are a bit biased, when they say cognitive therapy is the "only" thing that works here.  It is simply the best studied.  That is because it is so logically based that it is the easiest to teach and the easiest to learn.
Easy to learn and easy to teach, it is learning how to take emotions and change the thoughts that go with them.
My problem was no personnel and no resources.  Using dedication and inspiration, we could work with the social worker.
Some series say as many as half of the folks who have it may have an alcohol problem, although I usually hear of the alcohol being used to reduce anxiety instead of the way that this young woman used it.
I ordered a bunch of blood tests, as well as a physical examination with a medical doctor.   I did, however, read her the riot act about alcohol.  She paid at least lip service to my comments.
My problem in the situation above, where I was in a public clinic, is that none of the few therapists available would ever have the time to help this young lady with her social anxiety disorder.  So my best bet was to take the social work person and teach her how to help the patient.  I have learned that people tend to do their best jobs when they are stretching a bit, when they are learning something new.
The first component of cognitive behavioral is something called "systematic desensitization."  This basically means that if you do something over and over again it is not scary anymore.  This is the same principle I used when I worked with young psychiatrists who were afraid of taking their oral boards.  I would arrange for them to take "fake" boards over and over again until the idea of taking real ones was more fatiguing than stressful.
With this young patient, I simply told the social worker to do some relaxing and pleasant deep breathing with her, and to slowly help her get in front of her apartment door, in the corridor, etc.
Another component of cognitive behavioral is something called "cognitive restructuring."  This means taking negative throughts that make somebody nervous, identifying the "errors" in them, and changing them into positive thoughts.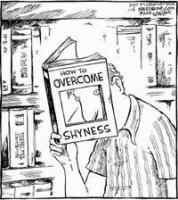 With young doctors scared of exams, "I will die if I don't pass this" becomes "I might feel rotten if I don't pass this, but it is one quarter of my grade and I can do other things to pull my grade up." "I will die if I leave the apartment" becomes "I might get some heart palpitations if I leave the apartment.  If I deep breathe a little extra, they should go away."
Now there are plenty of studies that compare medications to this kind of technique, but in real life, I like the "cannon shot at the tissue paper" model.  I use everything that I know that can actually work, hoping they work at their best when used together.  They usually do.
The young lady got both the medication and a devoted social worker.
Unlike many stories, this one has a happy ending –
The last time she came to see me, she came alone, on the bus, and was so prettily dressed that I did not recognize her.
Filed under Psychotherapy by admin on Jan 6th, 2010. Comment.